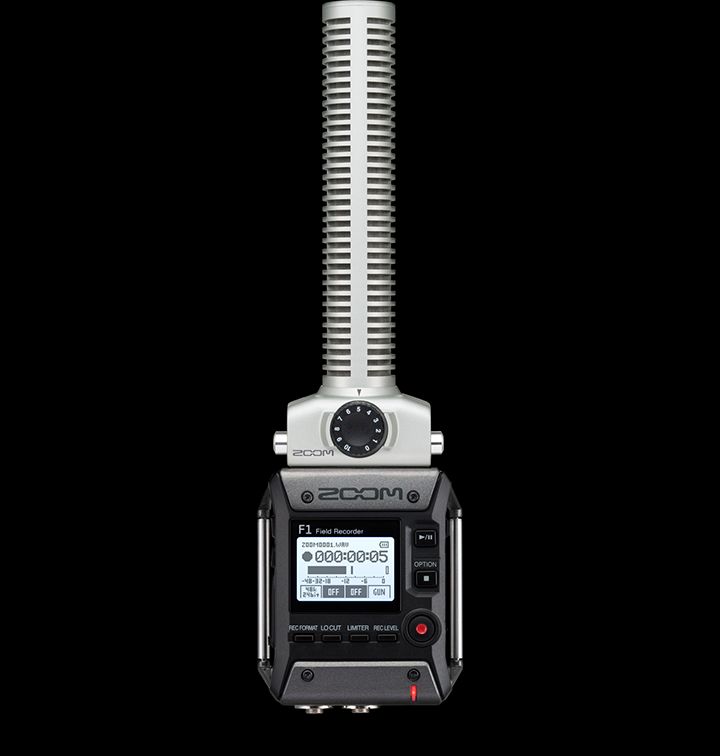 F1 FIELD RECORDER + SHOTGUN MIC
For Run and Gun Video Creators
The Zoom F1 Field Recorder + Shotgun Mic is the ultimate solution for run-and-gun filmmakers who need to capture professional quality audio for video.
Capture All The Action
The Zoom F1 Field Recorder + Shotgun allows you to capture professional audio everywhere your camera takes you.



High Impact Audio
The F1-SP comes with the SGH-6 Shotgun Mic known for capturing pro-quality, hyper directional sound, and it's aluminum body makes it extremely lightweight. Combined with the F1, you can record high-resolution audio up to 24 bit/96 kHz, providing high-impact audio for any video production.


Ready, Aim, Record
Connect the F1 and Shotgun to the included shock mount and attach it to your camera.
Then connect the F1's audio output to your camera's input using the included 3.5mm stereo cable and you're ready to record.
Audio Redundancy
While recording to your camera, the F1 can also record to a microSD card, providing a stereo audio file which can be edited in post-production.
Bright Light?
No Problem.
Monitor your levels, battery life, lo-cut settings and more with the F1's newly designed monochromatic display, ensuring visibility even in bright sunlight.
One-Touch Controls
One-touch buttons make record levels, limiter settings, and volume output easily accessible.
Smooth Ride
The SMF-1 shock mount was engineered to eliminate unwanted thumping sounds caused by vibrations when shooting on the move.
Essential Features for Videographers
CALIBRATE AND SYNC
The F1's tone generator provides a test tone to assist in setting proper audio levels. Sound markers make aligning audio and video easy.
NO CHANCE OF OVERLOAD
An on-board limiter keeps your levels safe when spikes in loud volume occurs.
CONVENIENT POWER SOURCES
The F1 can be powered using two AAA batteries (included) or with the optional AD-17 power adapter.
USB Connectivity
Transfer recordings to your computer in card reader mode or record directly to your computer using the F1 in USB audio interface mode.
Record in Multiple Audio Formats
The F1 records audio in WAV or MP3 formats. WAV files are automatically time-stamped, making them Broadcast Wave Format (BWF) compliant.
One Recorder,
Multiple Mic Options
With our proprietary 10-pin connector, the F1 is compatible with all of Zoom's interchangeable mic capsules, providing options for any recording situation.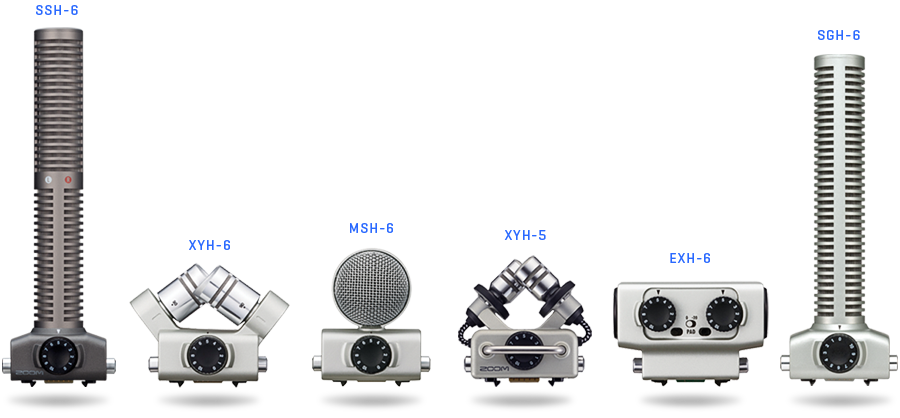 SSH-6
Stereo shotgun capsule with directional mic and adjustable side mic.
Learn more >
XYH-6
Stereo X/Y Capsule with adjustable capsules.
Learn more >
MSH-6
Stereo mid-side capsule with adjustable stereo width.
Learn more>
XYH-5
Stereo X/Y capsule with shock-mounted microphones.
Learn more >
SGH-6
Mono shotgun capsule with directional pickup.
Learn more >
Features
at a glance
Two-channel audio recorder
Compatible with Zoom microphone capsules
Supports up to 24-bit/96 kHz audio in BWF-compliant WAV or a variety of MP3 formats
One-touch button controls
1.25" monochrome LCD display
Rec Hold function to avoid accidental operation of buttons
Stereo ⅛" Mic/Line In mini phone jack with Plug-in power (2.5V)
Stereo ⅛" Phone/Line Output jack with dedicated volume control
Built in limiter and auto level control to avoid clipping
Pre-Record function
Tone generator for calibrating audio levels between the F1 and a DSLR or video camera without the need for an attenuator cable
Sound marker function that outputs quick tone to make syncing audio and video easy
Records directly to micro SD and SDHC cards up to 32 GB
​Micro USB port for data exchange to and from computer and use as an audio interface with computer or iOS device
​Runs on only 2 standard AAA alkaline, Lithium, or NiMH rechargeable batteries, or AC adapter (AD-17)
Up to 10 hours of operation with alkaline batteries (when using lavalier)
*Camera not included
The ultimate audio solution for run-and-gun filmmakers
Here's what's
included
• F1 Field Recorder
• LMF-1 Lavalier microphone
• WSL-1 Windscreen
• MCL-1 Mic clip
• BCF-1 Belt clip
• 2 AAA batteries
• Quick guide
Optional Accessories available separately
• CBF-1SP Carrying Bag for F1-SP
• APF-1 Accessory Pack for F1
• SMF-1 Shock Mount for F1/DSLR
• SMC-1 Stereo Mini Cable for F1/DSLR
• WSS-6 Windscreen for Shotgun Mic
• XYH-6 XY Stereo Mic Capsule
• XYH-5 XY Stereo Mic Capsule
• MSH-6 MS Stereo Mic Capsule
• SGH-6 Shotgun Mic Capsule
• SSH-6 Stereo Shotgun Mic Capsule
• EXH-6 Dual XLR/TRS Input Capsule
• ECM-3 Extension Cable for Zoom Mic Capsule (3m)
• ECM-6 Extension Cable for Zoom Mic Capsule (6m)
• AD-17 DC5V AC Adapter
Media
Video
The Zoom F1 Field Recorder+Shotgun Mic
F1 Field Recorder + Shotgun Mic Introduction
Zoom F1-SP: Connecting To Your Camera / Setting Levels
Zoom F1-SP: Sound Markers For Syncing Audio And Video
Specs
Recording media:

microSD/microSDHC cards
(Class 4 or higher, up to 32 GB)

Recording formats:

WAV
44.1 kHz/16-bit, 48 kHz/16-bit, 48 kHz/24-bit, 96 kHz/24-bit
MP3
48 kbps, 128 kbps, 192 kbps, 256 kbps, 320 kbps
Mono/stereo ID3v1 tags supported

Display:

1.25" monochrome LCD

Inputs
MIC IN :

ZOOM mic capsule input

Mono shotgun mic (SGH-6):

Directionality: Super cardioid (3 directional mic units)
Sensitivity: −39 dB/1 Pa at 1 kHz
Input gain: −∞ – +50 dB
Maximum sound pressure input: 122 dB SPL

MIC/LINE IN :

Connector: 3.5 mm stereo mini (with screw lock)
Supports plug-in power (2.5 V)
Input gain: −12 dB – +36 dB
Input impedance: 2 kΩ or more

Outputs
PHONE OUT :

Connector: 3.5 mm stereo mini (with screw lock)
Maximum output level: 11 mW + 11 mW (into 32 Ω load)

microUSB:

Mass storage operation: USB 2.0 High Speed

Audio interface operation: USB class compliant
44.1kHz/16-bit, 48kHz/16-bit, 2-in/2-out
Transfer method: asynchronous

Supported OS
Windows: Windows 7 / 8 / 8.1 / 10
Mac: Mac OS X 10.10 / 10.11 / 10.12 / 10.13

Power

2 AAA batteries (alkaline, NiMH or lithium)
AC adapter (ZOOM AD-17): DC 5V/1A

Recording time using batteries:

SGH-6 mono shotgun mic capsule (48 kHz/24-bit, mono):
Alkaline batteries: about 6.5 hours
NiMH batteries 750 mAh): about 6 hours
Lithium batteries: about 11 hours
*The above values are approximate.