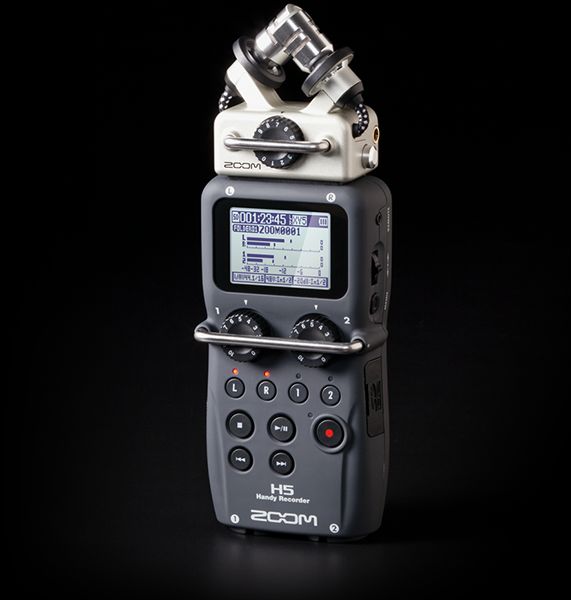 Evolved Recording
The Zoom H5
Flexible Audio for Video Perfection
Four tracks of simultaneous recording and interchangeable mic capsules make the H5 flexible and powerful enough to meet the evolving needs of today's creators.
The H5.Versitile Productivity.
Louder.
The design of the XYH-5 mic capsule allows the H5 to handle up to 140 dB SPL — equivalent to the sound of a jet aircraft from less than 200 feet away! And to keep your levels under control, the H5 offers compression and limiting.
Cleaner.
The H5's rubberized housing and shock-mounted microphones minimize vibration and handling noise, while a low-cut filter helps eliminate wind noise and other kinds of low frequency rumble.
Clearer
The H5 utilizes the same high-quality, low-noise preamps as our flagship H6, ensuring great-sounding recordings in all sonic environments.
Six interchangeable mic capsules

that can be swapped out as easily as the lenses of a camera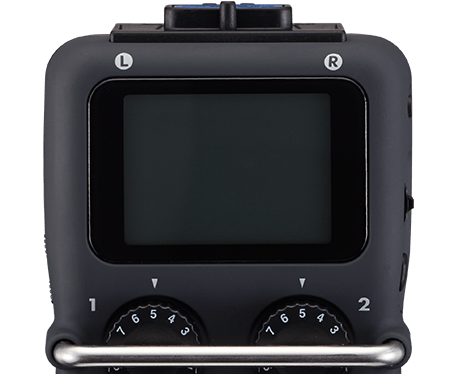 Inputs and Outputs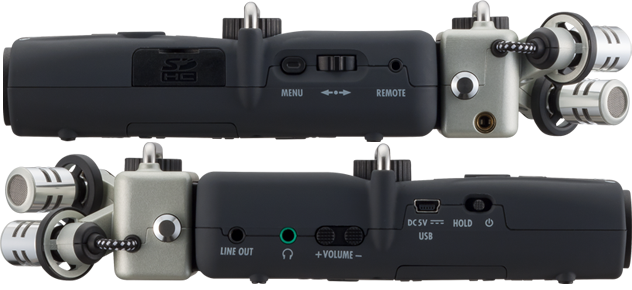 Ins

The H5's XLR/TRS combo inputs can handle both mic- and line-level signals for microphones, wireless receivers, mixers, keyboards and more. Each input has a dedicated gain control knob. The supplied XYH-5 capsule also provides an additional mic/line input via a ⅛" mini phone jack.


Outs
A Line Out with adjustable volume allows you to send audio from the H5 to the input of a camera or other device without the need for an attenuator cable. In addition, there's a separate headphone output with a dedicated volume control. You can use both outputs simultaneously to route audio to your DSLR while monitoring with headphones.
Recording Timesand File Formats
Record continuously for over 15 hours with just 2 AA batteries or extend your recording time indefinitely with the optional AD-17 AC adapter.
The H5 can record up to six monophonic WAV files (or up to three stereo files) in any of the following formats:

Audio Interface
The H5 also works as a USB audio interface for your computer or iPad** complete with a Loop Back function that makes it easy to add narration to music playback.

*Apple Camera Connection Kit required.
Free Production Software
The Zoom H5 comes with free download licenses for Steinberg's Cubase LE music production software and WaveLab LE audio editing software.
Mic'd for Anything.
Built for Everything.
Features
Includes detachable X/Y capsule (XYH-5) capable of handling 140 dB SPL
Shock-mounted mics for reduced handling noise
Compatible with all Zoom input capsules
Four-track simultaneous recording
Records directly to SD and SDHC cards up to 32 GB
Up to 24-bit/96 kHz audio in BWF-compliant WAV or a variety of MP3 formats
Two mic/line inputs with XLR/TRS combo connectors, each with selectable phantom power and -20 dB pad
Built-in effects, including low-cut filtering, compression, and limiting
Auto-record, Pre-record, and Backup-record functions mean that you'll never miss that perfect take
Multichannel and stereo USB audio interface for PC/Mac/iPad with Loop Back function
Powered by two AA batteries or via USB
Over 15 hours of operation with alkaline batteries
What's In the Box
Here's what comes included with the H5
Operation manual
XYH-5 X/Y mic capsule
AA size (LR6) battery x 2
USB cable
Foam windscreen
Case
​Steinberg WaveLab LE software download
Steinberg Cubase LE software download
Optional H5 accessories
PCH-5 Protective Case for H5 Handy Recorder
SGH-6 Shotgun Mic Capsule
SSH-6 Stereo Shotgun Mic Capsule
EXH-6 Dual XLR/TRS Combo Capsule
XYH-6 X/Y Mic Capsule
MSH-6 Mid-Side Mic Capsule
ECM-3 Extension Cable for Zoom Microphone Capsules
HS-1 Hot Shoe Mount Adapter
MA-2 Tripod to Mic Stand Adapter for Handy Recorders
WSU-1 Universal Windscreen
APH-5 Accessory Pack includes RCH-5 wired Remote Controller,
AD-17 USB-type AC adapter, and Hairy Windscreen
Specs
GENERAL
Recording media:

SD card: 16MB to 2GB , SDHC card: 4GB to 32GB

Display:

Backlit LCD (128 x 64 pixels)

INPUTS
INPUTS L/R [XYH-5 X/Y mic]:

Mic type:   Unidirectional
Sensitivity:   -45 dB, 1 kHz at 1 Pa 
Input gain:   -∞ to 52 dB                                 
Max sound pressure input: 140 dB SPL

MIC/LINE IN:

Connector:   1/8" stereo mini jack
Input gain:  - ∞ to 52 dB
Input impedance:  2 k Ω or more
Plug-in power:  2.5V supported
Backup recording: -12dB lower than set L/R input gain

INPUTS 1/2:

Connectors:    XLR / TRS combo jacks
    (XLR: Pin 2 hot / TRS: Tip hot)
Input gain (PAD OFF): -∞ to 55.0 dB
Input gain (PAD ON): -∞ to 35.0 dB
Input impedance:  1.8 k Ω or more
Max input level:  +22 dBu (PAD ON)
Phantom power:  +12V /+24V /+48V
Equivalent Input Noise (EIN): -120 dBu or less

OUTPUTS
LINE OUT:

Connector:    1/8" stereo mini jack
Rated output level:   -10 dBm
Output load impedance: 10k Ω or more

PHONE OUT:

Connector: 1/8" stereo mini jack
Output Level: 20 mW +20 mW into 32 Ω load

Built-in speaker:

400 mw 8 Ω mono

RECORDING FORMATS
STEREO MODE:

WAV (BWF-compliant) 
Sampling frequency:   44.1/48/96 kHz
Bit rate:    16/24 (Stereo)
Maximum simultaneous recording tracks: 2
MP3
Sampling frequency:  44.1kHz
Bit rate: 48/56/64/80/96/112/32/160/192/224/256/320kbps

MULTITRACK MODE:

WAV (BWF-compliant) 
Sampling frequency: 44.1/48 kHz
Bit rate: 16/24 (Mono/Stereo)
Maximum simultaneous recording tracks: 6 (L/R + INPUT 1/2 + L/R backup)

USB
Mass Storage Class operation:

Class: USB 2.0 High Speed

Audio Interface operation: Multitrack mode:

Class: USB 2.0 High Speed
Sampling frequency: 44.1/48kHz
Bit rate: 16/24 bit
Inputs / Outputs: 4 / 2

Audio Interface operation: Stereo mode:

Class: USB 2.0 Full Speed
Sampling frequency: 44.1/48kHz
Bit rate:  16 bit
Inputs / Outputs: 2 / 2
USB bus powered operation  possible
(iPad operation supported in Stereo mode only)

POWER REQUIREMENTS

AA size (LR6) battery x 2
AC adapter: AD-17 (DC5V/1A/USB-type) (optional)
USB bus power