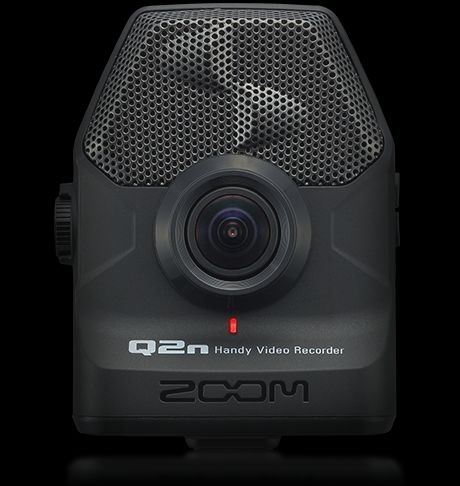 THE ULTIMATE CAMERA FOR MUSICIANS
The Zoom Q2n
Handy Video Recorder
If you're an aspiring musician, video plays an important role in helping you reach a wider fan base. It's a digital world and that means an inspiring performance can take the Internet by storm. But you can't capture your music with just any camera. You need one that records incredible audio.
The Zoom Q2n gives you a fast and easy way to create HD videos with high-impact audio. The built-in X/Y microphones capture sound with beautiful stereo imaging. And the 160-degree wide-angle lens excels in an array of lighting conditions—whether you're filming at home, in a rehearsal space, or at a club.
With the Q2n in hand, you can finally make videos that sound as great as they look—at a price more affordable than ever.
Experience Legendary Sound

As the camera for musicians, the Q2n gives legends like Steve Gadd the ability to get up close and personal with his fans. The Q2n's audio and video quality make it simple for Steve to capture the essence of his performances so fans can enjoy them time and time again...
Pictured: Steve Gadd, Zoom Creator
A Portable Camera That
Sounds Great
High-resolution 24-bit/96 kHz audio delivers studio-quality recording, no matter where you're filming. And the camera's built-in X/Y microphones can handle sound pressure levels up to 120 dB SPL, for distortion-free recording.
It Can Handle the Pressure
Since the Q2n can handle high sound pressure levels, it records loud music without distortion or clipping. Famed drummer Dave Weckl relies on his Q2n to capture full and beautifully balanced snare, bass, tom, and cymbal detail.
Pictured: Dave Weckl, Zoom Creator
Capture Your Best Moments
in Any Lighting
Ten "Scene" presets allow you to record in a wide range of environments, including low-light locations where the Q2n is designed to thrive. The presets range from "Concert Light"—which automatically adjusts for changing lighting conditions—to "Concert Lo-Lit" for dimly lit rooms. And there are scene settings tailored specifically for filming in jazz clubs and rehearsal studios, as well as outdoors.
Pictured: Breanna Kennedy, Zoom Creator
Up Close and Personal
The Q2n features a 160-degree wide-angle lens that captures stunning video. And it records in 720p or 1080p HD resolution, using the same 24 fps or 30 fps frame rate used in film. An F2.0 aperture makes the Q2n perfect for musicians who perform in a wide variety of lighting environments. Capture the full band or focus on an individual performer using five field of view (FOV) settings. Plus, a color LCD screen makes it easy to create the perfect shot or review your videos.
Small Enough to Go Everywhere
The Q2n is small enough to carry anywhere, so you'll always be prepared to capture impromptu performances or record new ideas. It records up to two hours of footage on two standard AA batteries, providing more than enough juice for concerts, rehearsals, jam sessions, and more.
Capture the Essence of Your Music
For an acoustic guitarist, nothing's more important than mic placement. Placing the Q2n ten feet away from your guitar achieves beautiful stereo sound. For more nuanced string sound and finger/neck detail, place the Q2n within three feet of your guitar.
Pictured: Josh Turner, Zoom Creator
Don't Let Technology
Get in Your Way
Intuitive controls and simple one-button recording make the Q2n easy to use.
Just power it up and start recording.
Record
Audio Only
The Q2n is also capable of
recording audio only. Simply
use the 'Camera Off' setting
to capture demos or live
performances in stereo sound
using the built-in X/Y mics.
Enjoy the Clarity of Sound
If you're like renowned pianist Kenneth Crouch, you strive for clarity in your videos. The Q2n captures a full range of frequencies—from delicate to more thunderous sounds—so fans can re-experience your performances with the same detail and accuracy as if they were hearing them live.
Pictured: Kenneth Crouch, Zoom Creator
Connect
and Listen
The Q2n features a 1/8" stereo
input jack that lets you connect
external mics and other audio
devices. And the 1/8" stereo
output jack makes it simple to
listen to audio with headphones
or on your home stereo.
Play it Back on TV
To view your video recording in high definition, you can connect to an HDMI TV using the HDMI micro Type D video output. A USB port allows for connection to any computer or iOS device* so you can use the Q2n as a web camera for live streaming, as a USB microphone for podcasts, or as a card reader to transfer recordings**. You can also use the Zoom HandyShare software that allows trimming of video and audio files, applying sound effect easily.
* iPad Camera Connection Kit or Lightning to USB Camera Adapter required (sold separately)
** Computer connection only
Files Types and Recording Times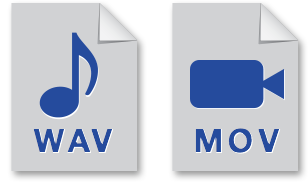 Video and audio file types
Video (with audio) is recorded as MPEG-4 (MOV) files. When using "Audio Recording" mode (without video), audio data is saved in uncompressed WAV (up to 24-bit/96 kHz) format.

Extended recording times
The Q2n records directly to micro SD/SDHC/SDXC cards up to 128 GB. It's perfect for podcasts, blogs, and capturing performances.
Features at a Glance...
High-quality 160° wide-angle lens (F2.0/16.6 mm)
10 "Scene" options for use in different lighting environments,
plus 'Auto' setting for automatically adjusting how the camera
captures specific scene conditions
Built-in X/Y stereo microphones capable of handling sound
levels up to 120 dB SPL
Can be used as standalone audio recorder, with data saved
in WAV format, up to 24-bit/96 kHz
5 field of view (FOV) settings
Records directly to micro SD/SDHC/SDXC cards up to 128 GB
for extended recording times
Easy one-button recording
Color LCD
Support for two HD video modes, 720p and 1080p
Video bitrates up to 24 Mbps for improved image quality
Frame rates: 1080p/30fps HD, 1080p/24fps HD, 720p/30fps HD,
720p/24fps HD
HDMI video output for connection to HDTVs, selectable between
NTSC and PAL
Records video (with audio) in MOV format
Analog-style level control with onscreen level metering and
2-color status LCD on lens
Auto Gain function automatic control over audio input level
Stereo input for use with external devices plus support for
plug-in power
Headphone/line-level for fast audio monitoring
Low-cut filter for the elimination of low-frequency noise
and rumble
USB interface for live streaming and data transfer
Compatible with USTREAM Producer, Flash Live Media Encoder,
Skype, and other popular streaming applications
Webcam and USB mic function (with direct monitoring) when
used with computers and iOS devices (Apple Camera Connection Kit
or Lightning to USB Camera Adapter required for use with iOS devices)
Operates with two AA batteries for approximately two hours
Built-in standard tripod mount
Accessories
Here's what's included with the Q2n:
2 x AA batteries
Operation manual
Optional Q2n accessories:
WSU-1 universal hairy windscreen
HS-1 hot shoe mount
MA-2 tripod to mic stand adapter for Handy Recorders
Zoom AD-17 AC adapter
LHQ-2n lens hood and lens cover
Q2n Accessory Package
(APQ-2n)* includes:
WSU-1 Universal Hairy Windscreen
Lens hood
Lens cover
3-prong action camera mount adapter
USB to mini-USB cable
Padded-shell case
MA-2 mic clip adapter
*Q2n Accessory Package sold separately
Media
Video
Josh Turner: Introducing the Zoom Q2n
The Zoom Q2n Handy Video Recorder is a compact camera that's specially designed for musicians. See why the Q2n's form factor and wide-angle lens work for the unique music needs of singer, guitarist, and Zoom creator Josh Turner.
Josh Turner and the Zoom Q2n: "Pretty Polly"
The Zoom Q2n Handy Video Recorder is the ultimate camera for musicians. Watch singer-songwriter and acoustic guitarist Josh Turner use the Zoom Q2n to capture his take on English folk song "Pretty Polly" in his Brooklyn apartment. 
Josh Turner and the Zoom Q2n: Re-voicing Songs on Guitar
Singer, guitarist, and Zoom creator Josh Turner shares a few tidbits about song reharmonization on guitar. 
Dave Weckl: Introducing the Zoom Q2n
Renowned drummer Dave Weckl explains why the Zoom Q2n's intuitive design, excellent audio quality, and lighting presets work best for capturing his dynamic drumming sessions.
Dave Weckl and the Zoom Q2n: Simple Groove
Dave Weckl is a well-known jazz drummer who's played with artists like Madonna, Paul Simon, George Benson, and Chick Corea. Watch as he uses the Zoom Q2n Handy Video Recorder to capture the full clarity and detail of his at-home drumming session. 
Dave Weckl and the Zoom Q2n: Groove #2
Drummer Dave Weckl is renowned for his versatile playing skills and has worked alongside artists like Madonna, Chick Corea, and Paul Simon. Watch as Dave uses the Zoom Q2n to capture the snare, bass, tom, and cymbal detail of an impromptu groove. 
Kenneth Crouch and the Zoom Q2n
Kenneth Crouch is one of the most highly regarded pianists in the music industry today. Here, he uses the Zoom Q2n Handy Video Recorder to capture a full range of piano sounds as well as excellent-quality video.
Paul Pesco and the Zoom Q2n
Paul Pesco is an excellent guitarist who's worked with artists like Madonna, Jennifer Lopez, and Alicia Keys. When he's not lighting up the stage with his playing skills, he's at his home studio making new music. See how he likes to create…
Danny Seraphine and the Zoom Q2n: "Questions 67 & 68," live at the Cutting Room
Watch drummer Danny Seraphine, of iconic band Chicago, play "Questions 67 & 68" live at the Cutting Room in New York City, featuring the legendary Will Lee on bass and vocals. 
Danny Seraphine and the Zoom Q2n: "Full Circle," live at the Cutting Room
See how the Zoom Q2n captures the essence of Danny Seraphine's live performance of Chicago's "Full Circle" at the Cutting Room in New York City. 
Zoom Q2n with Facebook Live
A tutorial on how to use the Zoom Q2n for Facebook Live.
Specs
Recording media:

micro SD/SDHC/SDXC cards
(Class 10 or higher, up to 128 GB)

Image sensor:

1/3-inch 3-megapixel CMOS sensor

Lens:

F2.0, 160˚ FOV, fixed focus (36 cm – ∞),
Focal distance approx. 16.6 mm (35 mm equivalent)

Video format:

MPEG-4 AVC/H.264 (MOV)

Video resolutions and frame rates:

HD 1080p / 30 fps
HD 1080p / 24 fps
HD 720p / 30 fps
HD 720p / 24 fps

Audio formats:

WAV (24-bit/96 kHz, 24-bit/48 kHz, 16-bit/44.1 kHz)

Audio functions:

Lo-Cut filter (off, 80Hz, 120Hz, or 160Hz), Auto Gain

Image functions:

Five FOV (field of view) steps: (×0.75 / ×0.85 / ×1.00 / ×1.30 / ×1.50)

Scene selection: (Auto / Outdoor / Sunset / Night / Concert Light /  Concert Lo-Lit/ Concert Hall / Jazz Club / Dance Club / Rehearsal Studio / Garage)

Power Save:

(Off, 1, 3 or 5 minutes)

Auto Power Off:

(Off, 1, 3 or 5 minutes)

Display:

1.77" full-color LCD (160 x 128)

INPUT: MIC
Type:

120° X/Y stereo

Maximum sound pressure input:

120 dB SPL

Input gain:

–∞ to +39 dB

INPUT: EXTERNAL INPUT
Input connector:

Stereo mini jack

Input gain:

–∞ to +39 dB

Input impedance:

2 k Ω or more
Supports plug-in power

OUTPUTS
Output connector:

Combined line/headphones stereo mini jack

HDMI connector:

Micro Type D

Built-in speaker:

400 mW 8 Ω mono speaker

USB
Connector:

USB2.0 Micro-B

Supported cable:

USB2.0 Micro-B cable
Use cables for data transfer. Cables for battery-charging cannot be used for the following purpose.

USB: OPERATION AS WEBCAM
Specifications:

WVGA/720p video size, 48 kHz/16-bit audio
Note: USB bus power supported

USB: OPERATION AS CARD READER
Specifications:

USB2.0 High Speed
Note: Card reader operations are supported with iOS/iPadOS devices
Note: USB bus power supported

USB: OPERATION AS USB MIC
Standard:

USB1.0 Full Speed

Specifications:

44.1 kHz sampling rate, 16-bit
Note: USB mic operations are supported with iOS/iPadOS devices
Note: USB bus power supported

GENERAL
Power supply:

2 AA batteries

AC adapter:

ZOOM AD-17, sold separately: DC 5V/1A

Battery operation time:

About 2 hours or more (when recording 720p/30 fps video using alkaline batteries)
About 3 hours or more (when recording 720p/30 fps video using Ni-MH batteries)

External dimensions:

Maximum dimensions of main unit:
1.8 (depth) × 2.5 (width) × 3.3 (height) inches

Weight:

0.2 lb

Included accessories:

User guide, AA batteries