Stunning audio plus high-definition video
Zoom Q2HD
Handy Video Recorder
The Q2HD Handy Video Recorder combines the great audio you've come to expect from Zoom with high-definition video, all in one compact package. Its advanced video sensor and built-in MS microphone allow you to shoot lifelike movies with superb stereo sound and then stream your work online. It can also serve as a web camera, a USB microphone, or  a standalone audio recorder. However you use your Q2HD—for recording live musical performances, auditions and rehearsals, or for journalism, education, sports or travel—it enables you to capture the moment and then relive it over and over.
Using the Q2HD
You can count on your Q2HD to deliver superior video and pristine audio wherever you go. Here are just a few ways you can use it:
Recording and streaming live concerts, recitals, auditions, and band rehearsals
Shooting music videos
Making video lessons—perfect for showing fingerings, bowings, and other playing techniques
Capturing sports activities
Reporting news
Conducting interviews in the field
Creating lasting memories of places you travel to and important events in your life such as weddings, graduations, parties, etc.

MS recording for adjustable stereo width
The Q2HD's built-in MS ("Mid-Side") capsule contains two high-quality condenser microphones: a forward-facing unidirectional mic, sensitive mainly to signals coming from directly in front, and a side-facing bidirectional mic, sensitive mainly to signals coming from both the front and rear.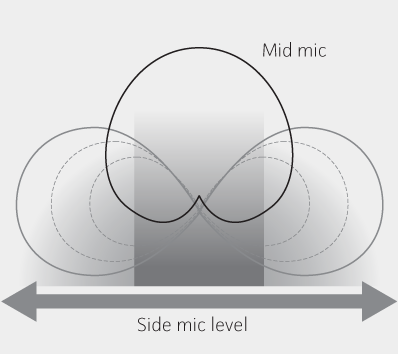 Together, these provide stunning stereo sound with natural depth and accurate imaging. In addition, the Q2HD offers a menu option that allows you to adjust the angle of the side microphone from 30˚ to 150˚ to alter the width of the stereo image.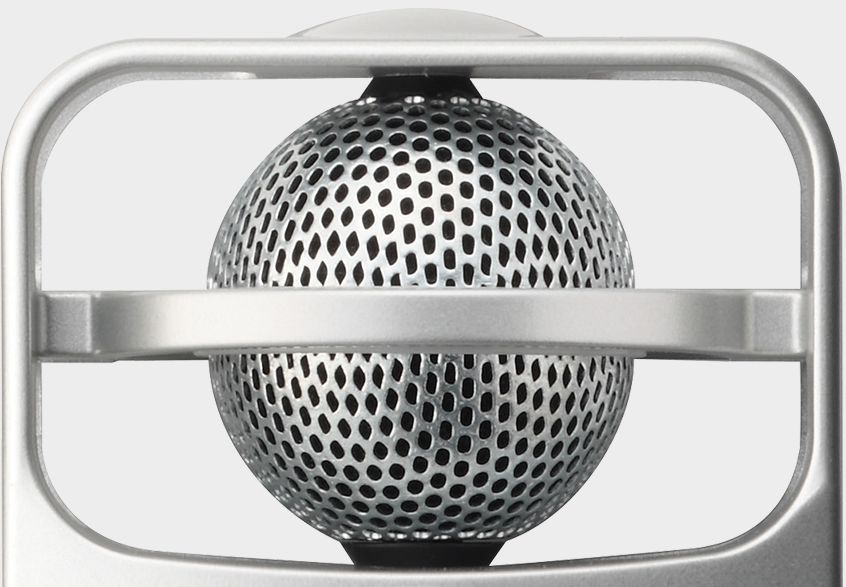 Making connections
The Q2HD's Line/Headphone Output is an unbalanced stereo ⅛" phone jack for private monitoring or connection to external equipment. In addition, there's a built-in reference speaker, located on the front of the unit, for fast monitoring. The speaker is automatically muted when a connection is made to the Line/Headphone Output.
There's also a Type C mini-HDMI video output that allows you to connect the Q2HD to an HDTV for viewing of your high-definition videos. Finally, a USB port provides a digital output of the video and audio signal, enabling the Q2HD to send digital data to DAWs or editing programs such as iMovie, Final Cut Pro, or the included HandyShare software.

Advanced video functions
The Q2HD offers a number of advanced video features, including a large aperture lens, digital zoom (up to 4x), and the ability to record in either WVGA (Wide VGA) or HD (High Definition) format, at three different resolutions and two different frame rates. Its three-way Video Scene Setting function enables you to record video optimally everywhere from dimly lit rooms to brightly lit stages; there's even an Auto option which allows the Q2HD to adapt to lighting conditions automatically. In addition, File Divide and Trim operations  let you edit your movies right in the Q2HD—no computer needed.
Advanced audio functions
The Q2HD allows you to record in a variety of file formats, all the way up to 24-bit/96k PCM high resolution audio. Three Auto Gain options allow you to set input gain automatically to prevent overload and distortion, or you can manually set the input level with an analog-type gain wheel. There's also a built-in low cut filter for the elimination of pops, wind noise, and other kinds of low frequency rumble.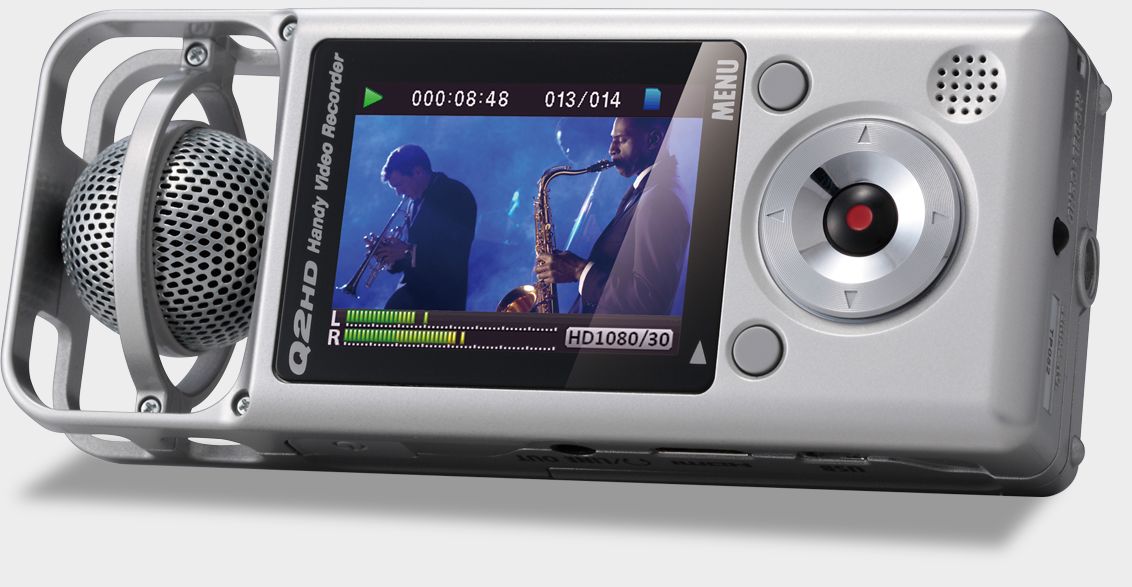 File types supported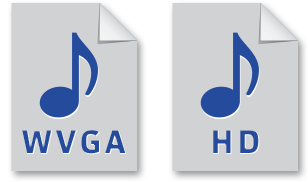 The Q2HD records video in either WVGA or HD format, at resolutions up to 1920 x 1080 pixels and frame rates up to 60fps. There are three HD settings for maximum video quality, and two WVGA settings for conserving SD card space.
In addition, the Q2HD supports two different audio file types: PCM and AAC. PCM files are uncompressed; that is, they contain all the recorded signal without any data being removed. Thus, they provide full fidelity without compromise. The Q2HD can record 16- or 24-bit PCM files at sampling rates of 44.1, 48, or 96 kHz.
AAC recordings are compressed, which means that some unnecessary data is removed prior to storage, making them much smaller than PCM files. Some AAC files exhibit a slight loss of audio fidelity as compared with the original signal; however, this is not noticeable in all circumstances.
Battery life and recording times
|
The Q2HD requires just 2 AA batteries—either alkaline or rechargeable NiMH—for power. Battery life (when using alkaline batteries) is approximately 2 hours when recording audio with video and 4 hours when recording audio only. Alternatively, you can use the optional AD-17 AC adapter to power it from any standard wall socket.
The Q2HD records directly to SD cards. It supports standard SD, SDHC, and SDXC cards, up to 64 gigabytes. You can record over 40 minutes of 720p / 30fps video with a 2GB SD card.  
Live streaming and other USB functions
The Q2HD can easily be used as a web camera for live streaming of video. Simply connect it to your computer or iPad* via USB and launch your favorite streaming software—it's fully compatible with Ustream Producer, Ustream Producer Pro, Flash Media Live Encoder, Skype, and other popular applications.
You can also use the Q2HD as a USB microphone, with all audio input operations available, including mic angle and low cut filter.
Finally, there's an SD Card Reader function that allows Q2HD files to be accessed directly from any connected PC or Macintosh computer.
* Apple Camera Connection Kit required
Features at a glance
High quality large aperture lens with digital zoom up to 4X
Large 2-inch 320 x 240 color LCD
Built-in condenser MS microphones for capturing stunning stereo with adjustable width (30˚ to 150˚)
Industry standard MPEG-4 AVC/H.264 (MOV) video codec
Records directly to SD, SDHC, and SDXC cards (up to 64GB)
WVGA and HD (High Definition) video formats up to 1080p/30fps
AAC and PCM audio formats up to 24-bit/96k
Over 40 minutes of 720p / 30fps video with 2GB SD card
Real-time web streaming, with adjustable video/audio synchronization delay
Divide and Trim editing
Selectable vertical or landscape display
Mini-HDMI video output for connection to HDTVs, adjustable between NTSC and PAL
Three imaging sense options (AUTO/CONCERT/NIGHT) allow use in all lighting environments
Manual or Auto Gain with three-position (CONCERT/MEETING/SOLO) MIC GAIN switch
Low cut filter for the elimination of audio pops and low-frequency noise and rumble
Built-in speaker and Line/Headphone output 
USB interface for live streaming and data transfer to computer video/audio editing software
Web camera and USB mic functions for use with external devices such as laptop computers and iPad
SD card reader function
Powered by two standard AA batteries, USB bus, or optional AC adapter
Battery life of more than 2 hours (Movie mode) or 4 hours (Audio mode)
Standard tripod mount
Windows and Mac OS compatible
Accessories
Here's what comes included with the Q2HD:  
Operation manual    
SD card (2GB)
2 AA batteries           
HandyShare editing and YouTube uploader software
Apple Quicktime software   
Optional  accessories: 
APQ-2HD accessory package includes windscreen, HDMI cable, AC adapter, USB cable, padded-shell case, and tripod  
Specs
General
Recording media:

SD/SDHC/SDXC card (up to 64GB)

Imaging device:

1 / 3.2-inch 5M pixels CMOS sensor

Optics lens fixed focus:

(1.23m to infinity), F3.2

Video format:

MPEG-4 AVC / H.264 (MOV)

Video resolution:

HD1080p 30fps, HD720p 60fps, HD720p 30fps, WVGA 60fps, WVGA 30fps

Audio format:

PCM: 16 / 24bit, 44.1 / 48 / 96kHz sampling rate
AAC: 64 to 320kbps, 48kHz sampling rate

Audio functions:

Lo-cut filter, Auto Gain (Concert/Solo/Meeting)

Video functions:

4x digital zoom, Scene select (Auto/Concert Lighting/Night)

Editing functions:

Divide, Trim

Display:

2.0-inch full color LCD (320 x 240 pixels)

Built-in mic:

Mid-Side stereo (MONO / 30°/60°/90°/120°/150°)

Maximum sound pressure level:

120dB SPL

Input gain:

+1 to +39dB

Built-in speaker:

Monaural, 400mW 8 ohms

Output:

Audio: PHONES / LINE OUT (1/8" Stereo phone jack)
Video: HDMI out (Type C mini)

USB:

miniB (USB 2.0 High Speed), USB-VIDEO, USB-AUDIO

Power requirements:

2 x AA batteries (LR6 or Ni-MH)

Battery life:

2 hours (audio and video), 4 hours (audio only)

AC adapter:

AD-17 (DC5V/1A/center positive)

Dimensions:

51 (W) x 126.9 (D) x 35 (H) mm

Weight:

85.4g (without batteries)

System requirements for HandyShare software
Hardware:

USB1.1 / 2.0 compatible port
1024 x 600 monitor resolution or more

Windows:

Windows® XP 32bit (SP2 or later)
Windows®Vista 32bit / 64bit (SP1 or later)
Windows® 7 32bit / 64bit
Intel® Pentium® 4 1.4GHz / AMD® Athlon 64 or faster
512MB RAM (1GB or more recommended)

Macintosh:

Mac OS X 10.4.6 or later / 10.5 / 10.6 / 10.7
Intel® Core Duo 1.66 GHz or faster (Intel® Mac only)
512MB RAM (1GB or more recommended)