Go Wherever Your Imagination Leads You
Feature-laden and fully equipped to handle even the most ambitious projects, you can count on your Q4 to deliver not only crisp video but also the great sound you'd expect from a Zoom product. Anywhere. Any time. Any place.
Audio Features
Never Compromise
The Q4's stereo X/Y microphone and support for high-resolution audio – up to 24-bit / 96 kHz – assure superior sound without compromise. Use the Q4 with your favorite DAW or editing software to further enhance your creativity. You've never heard a video camera sound this good!
Video Features
Take It To The Limit
The Q4's versatile design and powerful feature set allows video creators to push the envelope. Its wide-angle lens and choice of video formats and frame rates allow the Q4 to record sharp, detailed images in any lighting environment, and its full-color rotating LCD – which can be detached during shooting for portability and extended battery life – provides a clear preview of each moment you capture.
Flexible Mounting
Look At The World A Little Differently
Compact, lightweight and compatible with both standard tripod and three-prong action camera mounts, you can use the Q4 anywhere your creative muse takes you. Mount it to a mic stand, clamp it to a guitar, place it anywhere onstage or in the rehearsal room. There's nothing like a change of perspective to liven up your creations.
Inputs, Outputs, USB
Get Connected
The Q4's LCD and built-in speaker allows instant monitoring of your recordings, but it also offers additional flexibility through its various connectors: a stereo 1/8" Mic/Line In jack, a stereo 1/8" Line Out/Headphone jack, a micro-HDMI video output, and a USB port. Make use of a wide range of devices to boost your production capabilities: connect, stream, and share.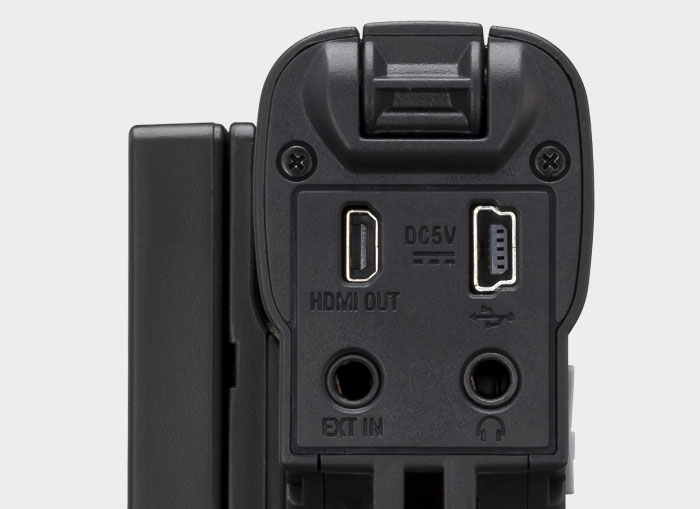 Battery life
Remarkable. Reliable. Rechargeable.

All you need to power the Q4 is the single supplied lithium-ion (Li-Ion) battery, which can be recharged with the use of an optional AC adapter or by connecting the Q4 to your computer via USB. Battery life is approximately three hours when shooting at 720p/30fps, or two hours when shooting high-definition 1080/30fps video, giving you the freedom to leave the studio behind and explore the world around you.
File Types
Multiple Formats For Maximum Versatility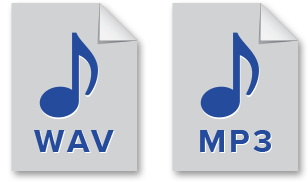 The Q4 records directly to SDXC cards up to 128GB in a variety of video and audio file formats, making it fully adaptable for your needs. The three HD settings provide maximum video quality while the two WVGA options can be used to conserve SD card space. The Q4 supports two audio file formats: WAV, up to 24-bit/96k, for uncompressed full fidelity sound, or AAC to conserve space.
---
Main Features
High-quality wide angle lens with selectable viewing angles
Removable full-color LCD
Built-in stereo X/Y microphone
Records directly to SDXC cards (up to 128GB)
Supports WVGA and HD (high-definition) video formats up to 1080 x 1920 pixels, with frame rates of 30 / 60 fps
Supports AAC and WAV audio formats up to 24-bit/96k
Flip screen function
Three imaging sense options (AUTO/CONCERT/NIGHT) for use in all lighting environments
Mic/Line-level input for connection to external microphones, portable recorders and personal music players
Three-position MIC GAIN switch with Auto-Gain control (CONCERT/MEETING/SOLO) and Peak LED
Supplied hairy windscreen and low-cut filter for the elimination of low-frequency noise and rumble
Built-in speaker for fast monitoring
Line-level/headphone output with dedicated volume control
HDMI video output for connection to HDTVs, selectable between NTSC and PAL
USB interface for live streaming and data transfer to and from computer editing software
Compatible with USTREAM Producer, Flash live Media Encorder, Skype, and other popular streaming applications
USB mic function for use with external devices such as computers and iPads (with Apple Camera Connection Kit)
SDXC card reader function
Rechargeable Li-Ion battery (chargeable via USB or optional AC adapter)
Battery life of more than 2 hours
Standard tripod mount
Compatible with all three-prong action camera mounts
Optional guitar head mount, mic stand mount, and water resistant jacket
Accessories
Here's what comes included with the Q4:
Removable LCD Panel
USB cable
Rechargable lithium ion (Li-Ion) battery (BT-02)
Hairy windscreen
Hairy windscreen attachment screw
User guide
Optional Accessories:
AC adapter (Zoom AD-17)
Guitar head mount (GHM-4)
Mic stand mount (MSM-4)
Water resistant jacket (WRJ-4)